Venue of the Conference
- Name: The Westin Chosun Seoul(웨스틴조선호텔)
- Address: Sogong-ro, Jung-gu, Seoul, Korea (서울특별시 중구 소공로 106)
- Tel: +82-2-771-0500
1. KAL Limousine Bus (#6701) → the most recommended method
- General Information
Airport-bound

First Bus 05:00

Final Destination

First Bus

Terminal 1 04:53

Terminal 2 05:13

Last Bus 19:04

Last Bus

Terminal 1 22:50

Terminal 2 23:10
- Bus Fare: 16,000 KRW
- Schedule
<![if !vml]>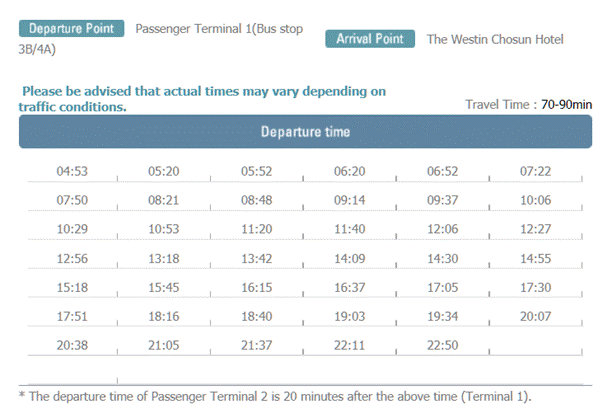 <![endif]>
(For more information, please visit: http://www.kallimousine.com/eng/schedule_result_en.asp)
- Bus Stop Location
Terminal 1 (1st Floor No. 4)
<![if !vml]>

<![endif]>
Terminal 2 (Traffic center Basement No. 18)
<![if !vml]>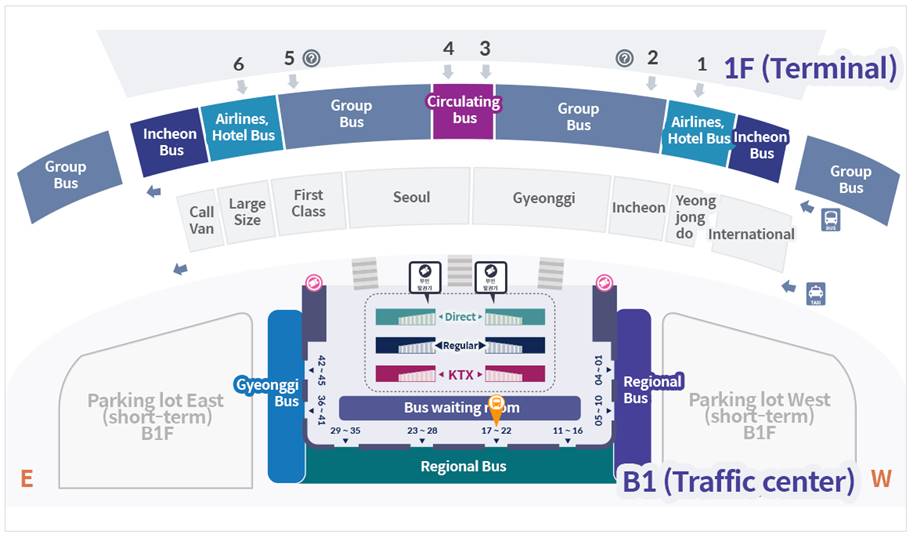 <![endif]>
 - Route Information
<![if !vml]>

<![endif]><![if !vml]>

<![endif]>
2. Taxi
There are two types of taxies in Seoul, deluxe taxi and normal one.
- Fare: (normal taxi) about 55,000~65,000 KRW (yellow, white colored etc.)
(deluxe taxi) about 90,000~100,000 KRW (black colored)
3. Hotel Car (deluxe sedan/van)
You are required to make a reservation before your arriving in Seoul in advance through the hotel car reservation desk at +82-2-317-0452.
- Fare
Airport to Hotel(70 min.): BMW7(180,000 won), Equus(150,000 won), Van(155,000 won)
Hotel to Airport(70 min.): BMW7(180,000 won), Equus(150,000 won), Van(145,000 won)